Lip & Tape
Full Cases
Anti Static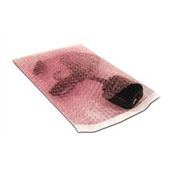 Save time and effort. Simply insert product, peel and seal. 3/16" clear bubble cushioning wrap on the outside of the pouch protects and cushions your item. Size refers to usable dimensions with the flap closed.

These pink bags have an anti-static treatment which eliminates potential damage resulting from electrostatic discharge. A good choice for protecting electronics.

If you previously purchased this product and would like to leave a review, please click on the picture of the product you purchased and scroll to the bottom of the page. All reviews would be greatly appreciated.

Thank you.