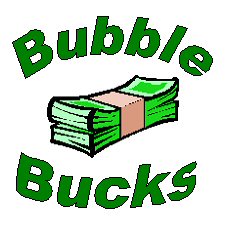 To show our appreciation to our valued customers, Bubblefast is proud to
offer our Rewards Program. We're calling it Bubble Bucks (we're so creative!)
---
Here's how it works:
For every order you place when logged in as a registered user on our site www.bubblefast.com, you will earn reward points. You cannot earn reward points if you are signed in as a guest or if you place your order via email or telephone.
For each dollar you spend on products (not including shipping or sales tax) you will earn 1 point. Each point will equate to a 2% credit towards future purchases. $1 = 1 point.
For example if you order $300 of product, you will earn 300 points which will give you a $6.00 credit which you can use on a subsequent order. Bubble Bucks are available for every purchase you make on www.bubblefast.com with only one exception.
Important: No Bubble Bucks will be awarded for orders where points are being redeemed.
In other words, if you are redeeming points on a purchase, your entire purchase will not earn you more rewards.
How do you sign up?
Here's the beauty, you don't have to. Points will automatically be earned on all qualifying purchases. If you're not interested in the program, you can simply ignore them.
How can you keep track of your Bubble Bucks points?
Easy! Your confirmation e-mail for each order will tell you how many points you have earned for that order. To see your cumulative total simply log into your account and click on the View Your Bubble Bucks Rewards Points link.
How can you use your Bubble Bucks to receive $$ off of Bubblefast products?
Your Bubble Bucks reward points can be used to apply a discount on any new order. During checkout, on the Payment and Other Information Page after you choose your payment method, you will be able to enter the number of points you would like to use in the box at the bottom of the page. Then click on Recalculate, and then Place Order.
Disclaimers and Other Legal Stuff
Bubble Bucks can only be earned for orders placed when you are a

registered customer, logged into your Bubblefast account.

If, for any reason, you have trouble logging into your account, please contact us and we will be happy to offer assistance.
Bubble Bucks are not transferable and have no cash value. Points can only be used on new orders. Rewards cannot be issued retroactively for prior purchases.
Points cannot be used for separately stated shipping or sales tax.
Wholesale customers are not eligible for the Bubble Bucks program.

Bubblefast reserves the right to modify or terminate the Bubble Bucks Reward program at any time by posting notice on the site. If a decision is made to terminate the Bubble Bucks program at least 30 days notice will be given and e-mails will be sent to all customers with balances in their Bubble Bucks account. If the program is terminated all unredeemed points will be forfeited.
Bubble Bucks program is void where prohibited and subject to U.S. laws.